A Comfortable Alternative to the Hospital in New Jersey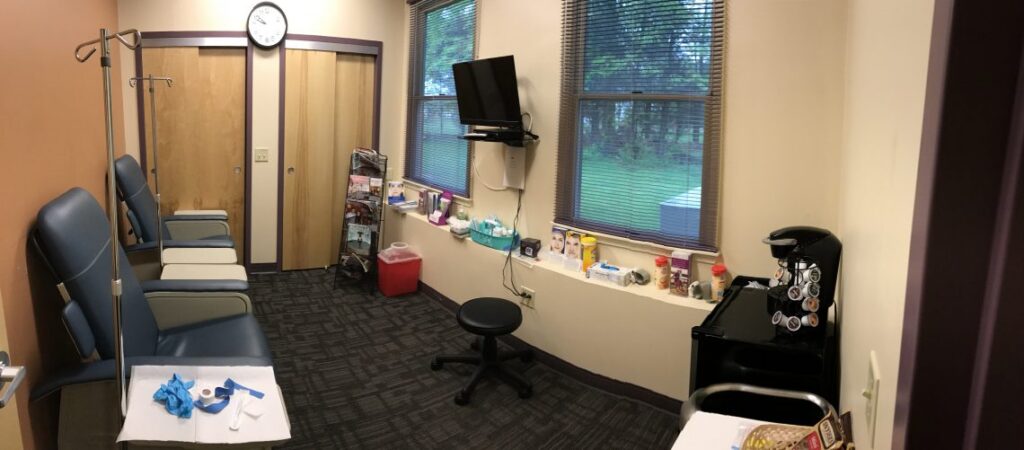 Some digestive diseases and conditions, such as Crohn's disease and iron-deficiency anemia, require infusion therapy or in-office treatments. This may require long-hours in a hospital and additional risks and complications. Our new infusion suite, conveniently located in our Hillsborough office, offers a comfortable and safe alternative for those patients who need treatment but do not require an inpatient hospital admission.
If you think you may be able to benefit from our new suite, contact our New Jersey gastroenterologist for more information.
Comforting Care When You Need It
The Hillsborough infusion suite provides a relaxing environment during your medical procedure. Care from our competent and professional staff can help ease your treatment. We always strive to ensure that you are in the best hands and regarded with the highest standard of care.
Our infusion suite is staffed by a trained infusion nurse who collaborates with the prescribing physician throughout the course of treatment. This allows us to monitor your therapy and make any adjustments necessary, without additional appointments. Added to this, our suite offers a number of amenities to make your stay more pleasant.
While receiving your IV therapies, you can take advantage of the following:
Comfortable reclining chairs
Complementary beverages
Snacks
Cable television
Free Wi-Fi
Focused on Convenience & Your Well-Being
Having to get regular intravenous transfusions is no easy task. Long stays in the hospital can take a toll on your mental and physical health, as well as leave you open to infections or unnecessary hurt. We work to make your stay with us as painless as possible, and our infusion suite has become a welcomed and comforting service for many of our patients.
The infusion suite is open Monday through Saturday with both day and evening hours for added convenience. We invite you to come in to receive your treatments with our skilled medical professionals.
Email us to schedule an appointment or call (908) 231-1999 to learn more.